For the latest BCSSA COVID-19 information and Guidelines, please visit our Safety page.
We're looking for a Mental Performance Consultant to work with GenBC and to provide support to BCSSA performance development programs. Applications are due by October 31, 2020 to chris.acton@nullbcspeedskating.ca
It's National Coaches Week!
September 19-27, 2020 is National Coaches Week, a time to celebrate the tremendous positive impact coaches have on athletes and communities across Canada. This week is an opportunity to recognize coaches for the integral role they play by simply saying #ThanksCoach.  Some of our great leaders from across BC carry on a coaching legacy that goes back three generations.  Third generation coaches Sylvie Lloyd, Kathleen Wenting, and Janie Green continue to carry the family coach torch and motivate our skaters, just as their grandparents and parents have or continue to do today.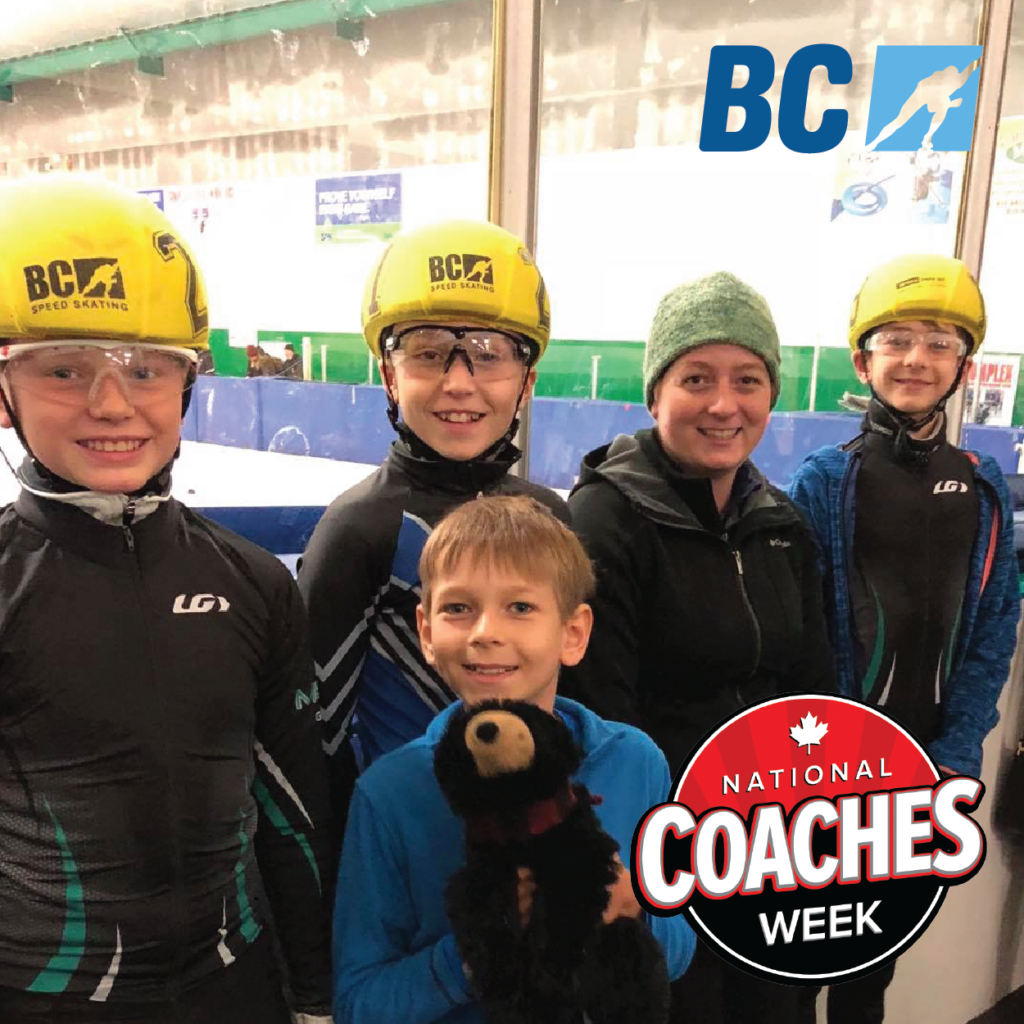 We're hiring! Join our team as the Executive Director of the BC Speed Skating Association. Submit your application by October 2, 2020.
2019-2020 BC Speed Skating Coach of the Year Meredith Thornton began coaching in 1988, having experienced the joy of Dawson Creek oval, she had enjoyed the look of speed skating and began attending some practices and, once in university, joined the newly started Burnaby club. Upon returning home to Dawson Creek, she was asked by Greig and Sharon Miller to join the club as the junior coach.
Meredith has always found working with the youngest skaters to be the most rewarding, "I've worked as a high school teacher since the early 90's and this way I see teenagers at school and the younger ones at skating!" Keeping skating enjoyable for the youngest ones, she is known for creating fun drills like "spaghetti ankles" to get skaters using their edges in a variety of positions, including skating – but also for the hula or Charlston dance, on ice.
Along the way Meredith has coached Shelley Kirk, Patrick and James Hopkins, Braden Clothier, Hannah Brun, Sarah and Jacob Graham, the Vanspronson brothers, and Heather and Melissa Chaley – many with a story to tell. The Hopkins were "always up to something," or BCST Champion Melissa once "sprinted away from the start gun because she thought she was going to get shot!" Including the Special Olympics skaters has always played an important part of the club, training with the main group of skaters. Among the memories and stories over the seasons, one stood out. Prior to the Olympics at the Richmond Olympic Oval, "the club really enjoyed doing the long track provincials at Vancouver on the indoor oval with the beautiful view of the mountains. Raistlin (photo credit above) was so excited about one race that he held his arms up and cheered himself for a full victory lap."
Aside from coaching, teaching, and her cats, Meredith is a proud member of the Timberline Trail and Nature Club, an affiliation of the BC Federation of Naturalists, where they go "backpacking, long distance skiing and are interested in birds and the natural environment. We were the only naturalist group in North Eastern BC that got involved in environmental planning on Site C."
Looking back, Meredith encourages all skaters to "start coaching even if you don't feel you know the sport that well. You can grow with the kids. And have fun. Take yourself back to being a kid again and enjoy playing on the ice." Of course, amidst a pandemic this season will be different. The club is diligently preparing it's Return to Play documentation and will be ready to skate safely. Meredith will be ready to keep the fun in speed skating, safely – providing her creative drills to safely Charleston 2m apart.
Ready for your next step in coaching? Cool off this summer and progress through your coaching certification with FUNdamentals Leader webinar and FUNdamentals Coach on-ice workshop.
The sessions are intended for active skaters, parents, or volunteers looking to work as assistant coaches for Learn to Skate, Learn to Speed Skate and introductory speed skating programs. 
FUNdamentals Leader
FUNdamentals Leader module delivered via webinar
August 24-25, 2020 @12pm-4pm
Registration $70
FUNdamentals Coach
The remaining 5 (of 8) FUNdamentals Coach modules will be in various locations when possible
Upcoming in-person session:
September 12-13, 2020 in Fort St. John
*Restricted to local FSJ and Dawson Creek participants only due to COVID-19 regulations*
Registration
BC Speed Skating Association is looking to fill a summer student position to assist in populating data into the new BCSSA Database. The successful applicant will be responsible for uploading all results from previous competitions into the database following on boarding and training by Adroit Technologies.
Ready to apply?
Find out more information here.
Application deadline: July 17, 2020
It's the summer off season and a perfect time to progress your through your coaching certification with the FUNdamentals Coach webinar series.
The webinar sessions are intended for active skaters, parents, or volunteers looking to work as assistant coaches for Learn to Skate, Learn to Speed Skate and introductory speed skating programs. 
3 (of 8) FUNdamentals Coach modules delivered via webinar
Tuesday, July 7, 14, 21, and 28 @6pm-8pm
Registration $90
The remaining 5 (of 8) FUNdamentals Coach modules will be held in-person; date(s) and location(s) TBC. The cost for the in-person session is $205.
Learn more about the Coaching Association of Canada and the speed skating coach certification pathway.
We're ready! The BC Speed Skating Association (BCSSA) has been carefully following the updates regarding Return to Sport in BC and we've been preparing our plans accordingly. Thank you for your patience as we do our best to ensure we have the safest and most successful return to group speed skating practices possible.
We are now in Phase 2 of BC's Restart Plan, which allows a return to organized sport under enhanced protocols. Following the release of the viaSport sport sector guidelines, BCSSA developed our BCSSA Return to Practice Guidelines. We are happy to announce that the BCSSA Board of Directors approved our guidelines last evening, and we are ready to share them here:

BCSSA Return to Practice Guidelines

What's next? Clubs must use the BCSSA Return to Practice Guidelines to develop written plans for their club. Each club's Board of Directors/Executive must approve their club's plan, after which, face-to-face group training can resume. BCSSA will be hosting a webinar on Wednesday June 17th at 7pm to review this process and answer questions about the BCSSA Return to Practice Guidelines. Club administrators are encouraged to attend using the following link:
https://meet.google.com/xea-vqjr-tsx
Dial-in: (CA) +1 604-774-3512 PIN: 547 209 640#

Questions should be directed to BCSSA Technical Director Chris Acton (chris.acton@nullbcspeedskating.ca). 
Join us this weekend, May 23-24, 2020, for the BC Speed Skating virtual AGM over Meet. Our first virtual AGM weekend includes Saturday information updates and a Sunday AGM.
Saturday, May 23: Information Sessions
Sunday, May 24: BC Speed Skating AGM