Category Archives:
Uncategorized
CANCELLED🏃Get moving! 🎓Get learning! Kick of the summer training season with cycling, dryland, and coaching modules at BC Speed Skating Academy – Train. Training is set in sunny Kelowna from July 13-14 (to be confirmed), and includes a Cycling Prep webinar (cycling etiquette and packing for cycling) prior to the camp. Participants are also encouraged to attend the Cycling Basics workshop (flat tire changes and basic bike maintenance) on the evening of July 12.
Look for more details this week!
The season is nearly over, and the ODC has a few asks for clubs and looks to plan next years officiating clinics. Click HERE for more details.
Congratulations to the skaters who qualified this past weekend at BCST! List of names by division HERE.
Their summer, the Richmond Oval is offering weekly training programs as well as summer camps, see links below for more information:
Thank you, Pat Underhill, for a lifetime of unmatched dedication and contribution to speed skating in BC and Canada.
"With sadness, I write to inform you of the passing of my dear friend Pat Underhill on Feb.5, 2018.
As the founder of speed skating in British Columbia, and an international competitor herself, Pat Underhill served as a great role model in our sport. She trained skaters not only to skate fast, but how to win gracefully and lose with pride in having tried their best. Pat was a great builder, having started several speed skating clubs and trained many coaches. Pat was the first female president of the Canadian Amateur Speed Skating Association (CASSA) which became Speed Skating Canada.
Just the mention of speed skating brought a huge smile to Pat's face. She truly loved the sport, and especially the young skaters. Her enthusiasm and positive spirit will be sadly missed, but her legacy lives on in the spirit of speed skating."
– Sandi Vyse, Head Coach of the Kalmoops Long Blades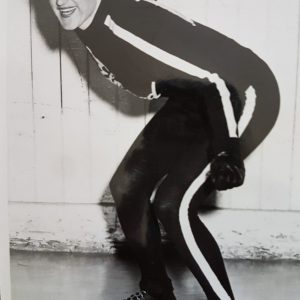 Above: Pat Underhill in her start position.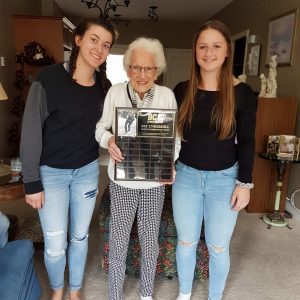 Above: Pat Underhill with the recently created Pat Underhill Spirit of Competition Award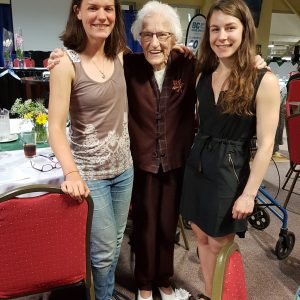 Above: Pat Underhill with former Olympian, Jessica Hewitt, and current Olympian, Jamie Macdonald, at the 60th Anniversary BCSSA AGM (May 2017).
Congratulations to the athletes! Click here for announcement.
CONGRATS to the Sardis Fliers Speed Skating Club!!
One of 7 Canadian speed skating clubs to receive a $5,000 grant from the Podium Tracker Program (sponsored by Intact Insurance).
Keep your eye out for next years application process to open. Updates will be posted here, on Twitter, and on the BCSSA website. Here is the SSC link to the program for more info.
Please fill out this form by June 15 for all competition bids this season. If you prefer to complete form in person, find Keara Maguire at the BCSSA AGM (May 26-28).
For reference:Â BCSSA Calendar (continually updated).
Please email questions to bcssacompetitions@nullgmail.com
Reminder to clubs to submit your interclub dates to bcssacompetitions@nullgmail.com ASAP! We will be continually updating the calendar and hope to have a good sense of scheduling prior to AGM discussions (May 26-28).